It's been pretty summery now. But still no rain here where we are living – the rain that the garden and nature need now… They say that this afternoon it will rain here… *waiting*. 🙂 It's now light green around out there everywhere as everything is growing, and in many places some bushes and trees are loaded with white flowers, for example bird cherry trees are in flower now, lovely scent…
This was my project on Thursday and Friday evenings last week; I made a new potato field in our garden. I dug it through the lawn, so to speak, using that garden hoe in the picture. The hoe is my favourite gardening tool, it's so useful and comfortable to use! And I also used a shovel and, naturally, my bare hands – my bare hands are my other favourite gardening tools – I never use gardening gloves, they are only in the way, a disturbance, and I want to and need to feel the earth in my hands – I've gone crazy in that way… 😉 It's earthing… Body, mind, spirit…
So I dug the new potato field all by myself, one part of the field was already ready; it was our strawberry field before – luckily, because it was hard work that digging. I also had some… theoretical help… 'someman' was helping me to measure the size of the field and telling me where to put the seed potatoes. And when I was taking a short break, drinking some water inside the house, someone who had just gone outside offered me some practical help – this is what I found when I came back outside and to the potato field:
"No, you should do it like this!" – 'somemeow' had moved some seed potatoes that were already placed on the soil, evenly spaced… 🙂
When the potato field was ready on Friday, late in the evening, it was time to go to sauna, with the first fresh birch leaves for this spring or summer… some more earthing… I wrote about sauna earthing already last year, here.
This year the birch leaves are still tiny, because the spring was so slow, but they are so wonderfully fresh and sticky, and naturally, the scent is heavenly. I took again a real bath with the birch leaves: I rubbed the leaves against my skin, buried my face into the leaves, hit myself with the twigs… Stay closer to nature, feel closer to nature, be a bit witchy! 😉
This year we seem to have only four narcissus or daffodil flowers – leaves of this plant we have in all the spots that we have narcissus plants in the garden, but only four flowers, two in one spot and two in another spot. They, too, are late, but they are here…
We've heard the calls of cuckoo bird somewhere near here every day now.
On Sunday, after 23.30 PM, when we were having a campfire in our garden, we had some visitors – bats! Three bats! It was a big surprise. We've seen bats before, but not here in our garden and not so close. It was the first warmer night with more mosquitoes here this year. All of a sudden the bats dashed and flapped into the woods beside our garden and into our garden as well, they flew all around here; into our garden, back into the woods, back into our garden… This continued for some time. And they flew also close above our heads every time they flapped into our garden. So close, and they were so cute! 🙂 I thought that bats avoid people, but no, they don't… It was amazing! – I've hoped that we would see bats here in our land, and now we now that it can happen…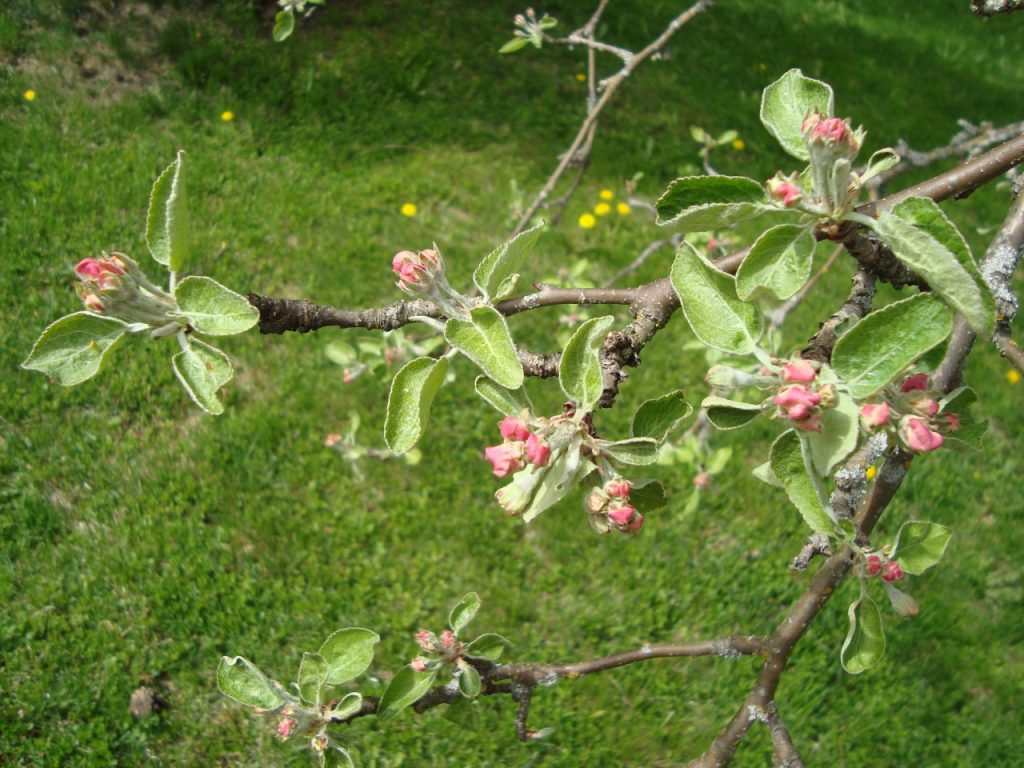 The apple trees have small flower buds now. They are late as well. A year ago the flowering had already ended!
-Leena